Choose Showtime to Buy Tickets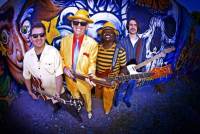 Hosted by Swing Dance Vegas
Boomers Swings: Live Music Edition!
Sounds of Dr. Harpo Band
Ages: 21+ Ages Price: FREE
This Event Has Ended
We Keep Vegas Swingin', One Dance at a Time
THE place for all your Swing, Lindy Hop, Balboa, Charleston, Shag, West Coast Swing, and East Coast Swing!
Join us for dancing and partying to the live musical stylings of The Dr. Harpo Band! And the best part? NO COVER! Just make sure to wear your fancy duds, they are filming the event to use for promotional materials. The band goes on at 9pm, playing until 11:30. Hope to see you there!
Swing Dance Lessons at 7:30p - $10
Introduction to Swing Lesson at 8:30p - FREE
Music at 8:30p!
Never a cover charge!  
Always a drink special! 21+
See you on the dance floor!
Instagram:  
@SwingDanceVegas
https://www.facebook.com/SwingDanceVegas/